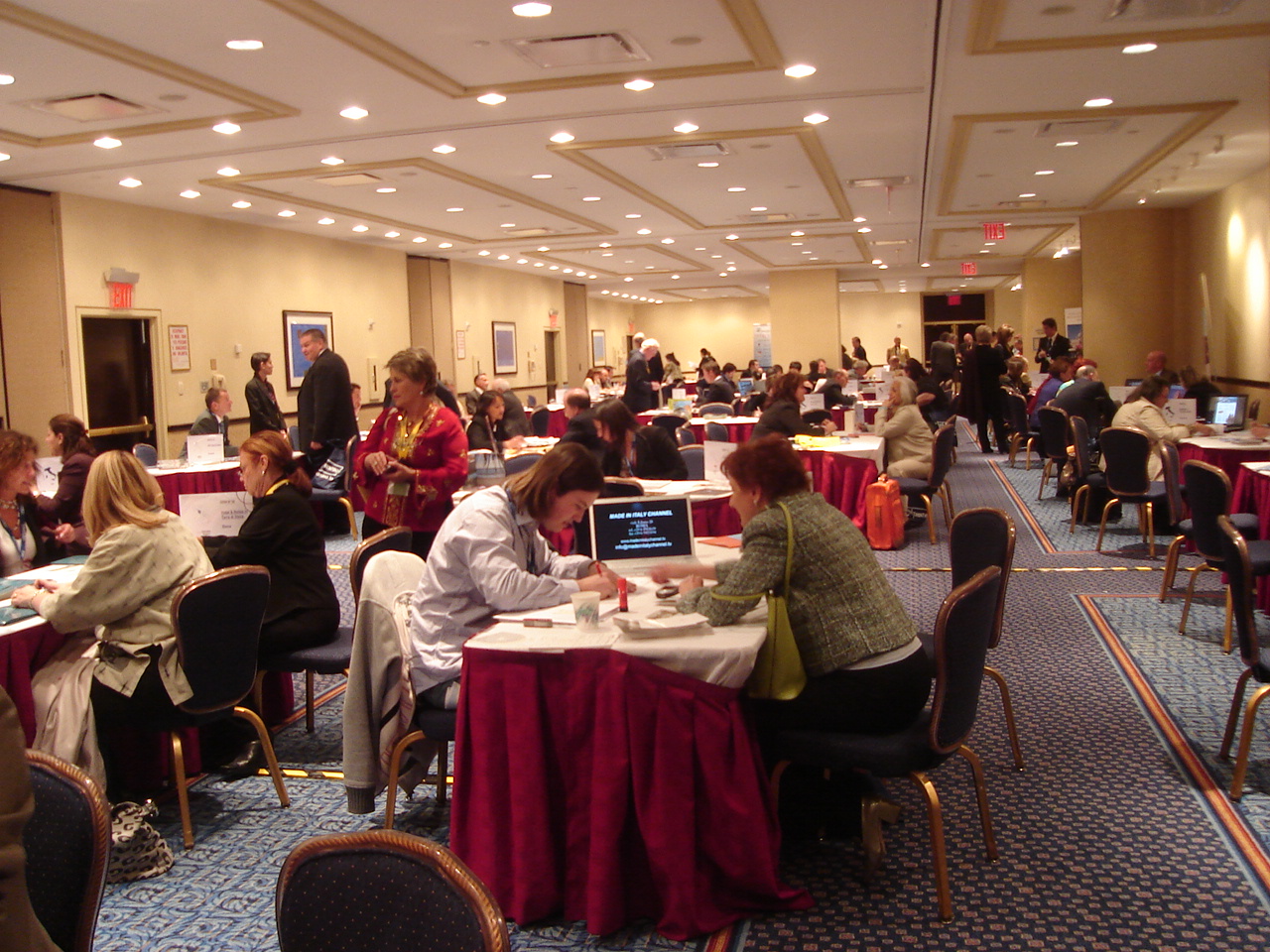 Cari Amici,
rientrati in Italia dall'avventura americana, desidero ringraziarVi caldamente per la Vostra partecipazione all'Italian Workshop che ha contribuito al grande successo dell'iniziativa. Vorrei trasmetterVi, oltre ad un ricordo dei lavori dei workshop, alcuni ringraziamenti inviatici dagli operatori americani e canadesi.
Ms Rozzi….thank you for the opportunity to meet with these organizations. It's always been a helpful and instructive experience. Sincerely. (Hotels Around The World – New York)
Good morning
thank you for inviting me I met with companies and property owners I would have never met. (Gramatan Travel – New York)
Good Morning. We were very pleased to be able to be at the workshop. We are sure that we will be able to get a group together this year for next spring travel. We managed to get a lot of information. Thanks again (Oshawa World Travel – Toronto)
Good morning from Michelangelo Tours: 
Dear Alessandra, 
It was a pleasure to attend the Italian Workshop in New York. It was very informative and It was a pleasure to meet new suppliers. (Michelangelo Tours of Italy – New York)
Good Morning Alessandra,
It was indeed a pleasure to fly to Toronto and attend your Italian workshop at the St. Lawrence Hall on May 11th. I assure you that I did appreciate meeting the Italian suppliers for desired products in Italy. Yes, it was a very encouraging and interesting workshop for developing and growing more business with Italy. Please keep me on your list for future workshops, as I will do everything possible to build this relationship and attend future meetings. (MCC – Penny's Travel – Toronto)
It is always a great experience and the contacts I met were excellent. (Cooking Vacations – New York)
Dear Alessandra,
Thank you for your e-mail of appreciation. We found the workshop to be very effective and well focused. We now look forward to an opportunity to meet the suppliers in their own environment and translating that into more tour products for Rhapsody Tours. (Rhapsody Tours – Toronto)
Thank you for your kind message.
I appreciated being invited to the Italian Workshop which turned out to be very informative and a great opportunity to establish quite a few new contacts. (Stevens Travel / TZELL – New York)
You did an excellant job–VERY informative! I thank you. (Hillside Travel – New York)
Thank you for the invitation. It was a long journey from Vancouver, but I am pleased I came as I made some very good contacts. Thank you. Regards (Avila Vacanza Destinations Inc. – Toronto)
Dear Alessandra,
We enjoyed the workshop very much and met with people that we will definitely do business with. Thank you. (Travel Express – New York)
Dear Alessandra,
I really want to thank you for give me this opportunity, it was a very good workshop and I was able to make very good contact. Thank you. (Italian Travel Company – Toronto).
Ancora grazie per la collaborazione e, augurandoci di rivederci al prossimo Italian Workshop, inviamo i nostri più cordiali saluti.
Alessandra Rozzi
NEW YORK - TORONTO
Da: 09/May/2006 To: 11/May/2006
Vuoi avere maggiori informazioni sui nostri eventi?
Contattaci